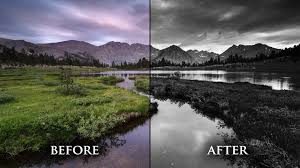 Adobe Photoshop is a great tool to enhance digital images. Using Adobe Photoshop, we can also Convert our colour Photos to Black & White in Photoshop.

You can use any version of the Adobe Photoshop software. But if you don't have Photoshop software, it is easy to purchase it directly from Adobe, online. There are no CDs to pop in. Just a direct digital download and a straightforward installation process. And you can purchase the latest edition of Adobe Photoshop here.
Black and white photography is the ultimate classical expression of the art form. Black & white conversions from colour pictures are easily converted to greyscale in Photoshop & you can produce Stunning Photos in no time.
Earlier we have covered other important Photoshop topics as follows:
Where Do I Buy Adobe Photoshop Software?
Why Should You Learn Adobe Photoshop?
How to Restore Old Photos Using Photoshop.
There are so many methods to convert the Color image into a Black & White image in Photoshop

Method 1: Use Grayscale Mode to Convert Image to Black & White in Photoshop
First Open Photoshop.
Now open the coloured image.
Go to the top toolbar (shortcut Ctrl+O) and click Image > Mode > Grayscale. When pop up will come, asking to "discard the color information?", click Discard.
That's all. It's so simple. In one click only, we have converted our coloured image into a Black and White image.
Method 2: Using the Black & White Adjustment Layer to Convert Coloured Image into a Black & White Image
First Open an image that we want to convert from coloured to Black & White.
From the Top Menubar, Choose Layer > New Adjustment Layer > Black & White, then click OK.
A popup window showing choices to select and adjust 6 different Sliders will open.
Drag the mouse button left or right on each slider to Darken or Brighten the colour tones of the image.
Move the cursor over the photo and press & hold the Left mouse button.
With the mouse button held down, move the mouse to the right to lighten the tones under the cursor, or left to darken them.
Click 'OK' when you're done.
Method 3: Applying The Gradient Map To Convert Colour Image to Black & White Image in Photoshop
In any version of Adobe Photoshop, Gradient Maps convert the image to Grayscale and then replaces the range of black, grey, and white tones with a gradient of our choice.
Go to the Image > Adjustments > Gradient to convert the colour photo into a Black & White photo.
Choose Dither (Adds random noise to smooth out the gradient and reduces banding) or Reverse (Changes the direction of the gradient.
Use the Reverse option to create a negative quickly) option.
Then Click 'OK' & save the black & white image.
Method 4: Use the Hue/Saturation Tool For Color to Black & White Conversion in Photoshop
From the top toolbar, Go to the Layer > New Adjustment Layer > Hue/Saturation and click OK.
Move the Saturation slider all the way to the left and click OK.
Once completed, Save the converted Black & White image.

Watch this video on the steps required to Convert Photos to Black & White in Photoshop
I hope you like the video and the techniques. Like the Intellisoft Page on Facebook. We will keep sending you the new articles and tutorials as we record them.
If you want more useful tips and videos on Adobe Photoshop, just go through other videos Using the Clone Stamp Tool in Photoshop, How To Use The Magic Wand Tool in Photoshop, How to Remove the Background in Photoshop,  How To Remove Red Eyes Effect in Photoshop, How to Create an Animated GIF in Photoshop.
If you want to attend Photoshop Training in Singapore, you can visit the Adobe Photoshop Certification Training and avail Government Grants for Adobe Photoshop in Singapore.
If you have any questions on the videos or a problem you are facing with Adobe Photoshop, you can email them to us, and we will be glad to answer your queries in our future videos.
Thanks.
Cheers,
Vinai Prakash,
Founder & Principal Trainer at Intellisoft Training Pte Ltd.
We are an Authorized Training Organization by the SkillsFuture Singapore (Currently SSG. Formerly WDA).