SkillsFuture Credit
SkillsFuture Credit aims to encourage individual ownership of skills development and lifelong learning. Introduced in 2015, the Singapore Government provides SkillsFuture Credits to all Singaporeans (above 25 years) to enhance their knowledge and skills by attending training programs in Singapore.
Opening SkillsFuture Credit of S$500

Since  2016, all eligible Singaporeans (Age 25 & above) can qualify for SkillsFuture Grant to pay for their training fees. All courses at Intellisoft Training are eligible for SkillsFuture grant.
All Singaporeans aged 25 and above will receive an opening credit of S$500. This opening credit has no expiry. 
You may login on your MySkillsFuturePortal to check for your SkillsFuture credits.
Intellisoft Training offers IT Skills (Microsoft, Adobe, Web Design, Digital Marketing) & Soft Skills (Communication and Presentation) which are already pre-approved for SkillsFuture Credits to upgrade your Skills!
One-Off SkillsFuture Credit Top-Up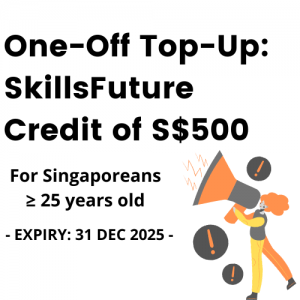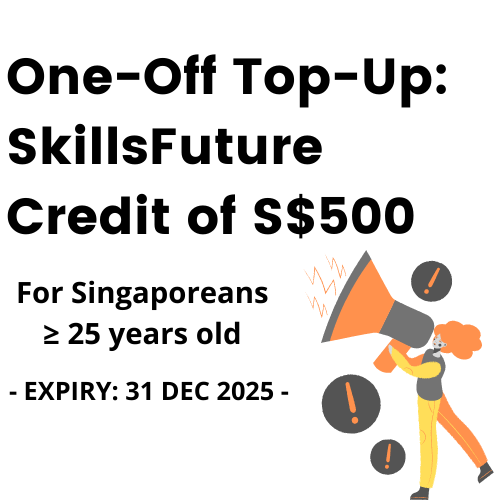 Finished your opening credit? No worries!
As part of efforts to encourage Singaporeans to take ownership of their skills development and be well-equipped to seize opportunities in the future economy, a one-off SkillsFuture Credit top-up of $500 was provided to every Singapore Citizen aged 25 years and above as at 31 December 2020.
This is under the Initial Credits you can see on your SkillsFuture Portal.
This credit however, if unused will expire at 31 December 2025. 
Call Intellisoft at 6296-4663 to discuss the SkillsFuture eligible course that suits your Skills Upgrade Needs. 
Additional SkillsFuture Credit (Mid-Career Support)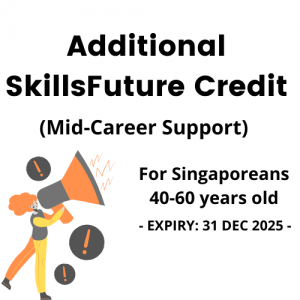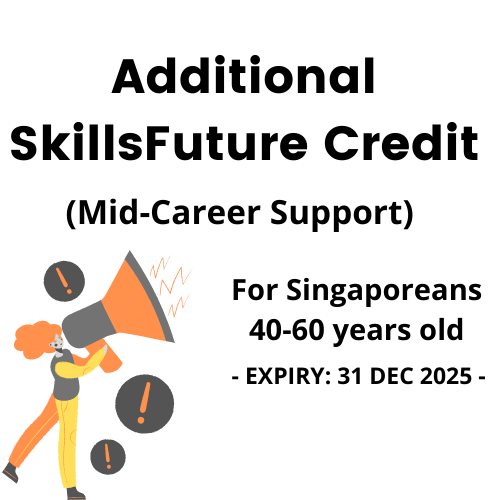 To improve individuals' access to career transition programmes, a one-off SkillsFuture Credit of $500 will be provided to every Singapore Citizen (SC) aged 40 to 60 (inclusive) as at 31 December 2020.
This credit however, if unused will expire at 31 December 2025. 
Note: This is under the Career Transition Credit on your SF Credit breakdown.
For Intellisoft Training Courses, only the initial credits can be used to offset the course fees. 
If you are a Singaporean, simply call Intellisoft Training at 6296-4663 to find out the best courses for your profile, based on your interest. Make good use of your SkillsFuture Grants to enhance your career.

How To Apply For SkillsFuture Credits To Pay For Your Training?
Simply contact Intellisoft Training for making use of your SkillsFuture Credits for any training program at Intellisoft Training. Call us at 6296-4663 or email to info@trainingint.com