The Best Adobe InDesign Course in Singapore, NOW WITH UTAP FUNDING!
Learn to create complex, scaleable documents for print and digital media with Adobe InDesign, the world-standard in page layout software.
Sophisticated design features and productivity tools help you work on professional publications including posters, flyers, brochures and interactive PDFs.
Our InDesign Training courses are taught at Fortune Centre, Middle Road, Singapore and In-house training courses across Singapore & online worldwide.
Why Use InDesign Software?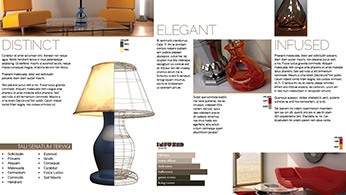 Adobe InDesign training in Singapore
Adobe InDesign is a desktop publishing and page layout program that runs seamlessly on both Windows and Mac platforms. 
With InDesign training, you can create books, brochures, catalogs, manuals, CD-DVD labels, certificates, newsletters, flyers, forms, label sheets and even interactive presentations.
Adobe InDesign provides all the tools you need to create a page layout design, import or enter text, insert images, add drawings, create tables and finalize the document. 
You can also export the document as a PDF or digital eBook (EPUB) for use online, over a network or on mobile or tablet devices.
Call (65) 6252-5033 for Details.  
There is NO WDA FUNDING for this training currently but can utilize UTAP FUNDING!


Adobe InDesign Course in Singapore: Course Overview
Course Duration For InDesign Training:  3 Days (9 am – 5 pm).
Funding For Adobe InDesign: Individual Singaporeans can use their Skills Future Credits. Companies can claim SDF Grant.
Assessment: There is NO assessment or test for this training. Certificate of Attendance will be provided.
For those interested in learning
Image Editing & Web Editing,
you can opt for
Photoshop
training &
Dreamweaver
training
.
Do note that these are
certification courses, WSQ Funding available for these practical training workshops.
About Adobe InDesign Training in Singapore – UTAP Funded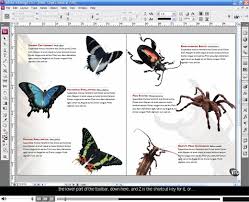 This 3 day course aims to equip participants with the technical skills required to create full-color, multi-page digital artwork for print using Adobe InDesign. 
Starting with text frames, formatting, graphics and links, colors and libraries, students then move onto styles, layers, master pages, and templates. 
Instructors also show students how to generate book files and prepare documents for print and other media.
Who Should attend Adobe InDesign Training?
Anyone who needs to use Adobe InDesign to create documents such as advertisements, flyers, brochures or newsletters, but has little to no experience doing so, would be an ideal participant in this course.
All Adobe training courses come with a detailed step-by-step training approach & a laptop is provided for your learning purpose in the adobe InDesign training class at Intellisoft Training in Singapore.
Prerequisites
There are no specific prerequisites for attending this Adobe InDesign training course; however participants are expected to have a general understanding of personal computers and the Windows operating system.
Unit 1: Understanding the Interface
Start InDesign and Open a Document
Scroll Using the Hand Tool
Workspaces
Create and use Custom Workspaces
New Documents
Create a New Document
Change Document Setup
Text Frames
Create a Text Frame
Frame Tools
Create Frames
Preferences
Change the Units and Increments to Inches
Unit 2: All about Text Basics
Text Frames
Set the Default Screen Mode
Create a Text Frame
Typing Text
Type Text into a Text Frame
Overset Text
Work with Overset Text
Formatting Text Frames
Format a Text Frame
Onscreen Editing
Make Simple Edits
Selecting Text
Moving Text
Cut, Copy and Paste Text
Character Attributes
Change Character Attributes
Unit 3: Adding Text and Formatting Paragraphs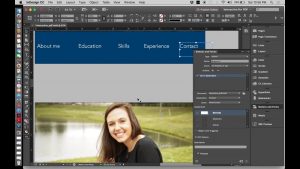 Document Presets
Create a Document Preset
Placing Text
Place Text
Drag and Drop Text into a Layout
Paragraph Alignment
Align Paragraphs
Paragraph Spacing
Create Multiple Columns
Set a First Line Indent
Add Paragraph Space
Set Leading
Set Paragraph Rules
Bullets and Numbers
Add Bullets to Text
Set a Hanging Indent
Edit the Bullet Position
Add Custom Bullets to Lists
Create Numbered Lists
Unit 4: Text Frames and Advanced Threading
Placing Longer Text Files
Flow Text Onto Multiple Pages
Navigating MultiPage Documents
Set Pages Panel Options
Insert and Delete Pages
Master Text Frames
Work with a Master Text Frame
Modify a Master Text Frame
Step and Repeat, and Ruler Guides
Use Step and Repeat
Add Ruler Guides to the Page
Threading Text Frames
Use the Selection Tool to Thread Frames
Unthreading and Changing a Thread
Use the Selection Tool to Unthread Text Frames
Thread Text Over Multiple Pages
Thread Text Across Multiple Pages
Thread Text into Shapes
Unit 5: Perfecting Text with Tab Stops, Strokes and Inset Spacing
Tabs and Tab Stops
Set and Move a Tab Stop
Add a Tab Stop Leader
Set a Decimal Tab Stop
Use the "Align to Other" Tab
Hanging Indents
Create a Hanging Indent
Apply Text Formatting Using the Eyedropper Tool
Frame Strokes and Inset Spacing
Add a Stroke to a Frame
Add Inset Spacing
Set Vertical Justification
Unit 6: Inserting Graphics and Clipping Paths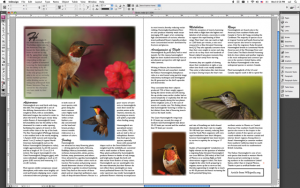 InDesign practical training in Singapore
Placing and Altering Images
Place an Image
Place an Image in an Existing Frame
Move and Resize an Image
Change the Scale of an Image
Rotate and Skew an Image
Resize the Frame and Graphic with the Mouse and Keyboard
Clipping Paths
Create a Clipping Path
Clipping Thresholds and Inset Frames
Customize a Clipping Path
Unit 7: Adding and Modifying Objects and Gradients
Step and Repeat
Use Step and Repeat
Align Objects
Grouping and Ungrouping
Lock Position
Resize a Group
Smart Guides
Combining Objects
Compound Paths
Stacking Order
Pass through a Stack
Shape Editing
Change and Edit a Shape
Add Arrowheads to a Line
Change Frame Content
Object Styles
Create a Gradient Swatch
Create an Object Style
Unit 8: Creating a One Page Flyer & Preparing Print Ready Copy
Multiple Column Text Frames
Create a Page Border
Create a Multiple Column Text Frame
The Find/Change Command
Use Find/Change
Save a Query
Paragraph Styles
Create a Paragraph Style for the Body Text
Add Ruler Guides
Place a Graphic Onto the Page.
Text Wrap
Create a Text Wrap Around an Object
Spell Check
Check Spelling Dynamically
Spell Check a Document
Autocorrect
Use Autocorrect
Live Package
Packaging a Document
Create a PDF
Unit 9: CMYK Colours, Libraries
Working with Picas
Change the Units and Increments
Delete and Load Document Presets
Create and Modify an Object
CMYK Colours
Add and use Process Colour
Type and Format Text
Libraries
Create and use a Library
Unit 10: Master Pages, Page Numbering and Text Wrapping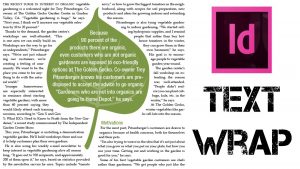 Creating Master Pages
Create a Master Page
Add Objects to a Master Page
Add a Spread Guide
Automatic Page Numbers
Add an Automatic Page Number
Duplicate and Rename Master Pages
Layout Adjustment
Enable Layout Adjustment
Assign a Master Page
Custom Text Wrap Around Objects
Wrap Text Around an Image
Edit a Text Wrap
Unit 11: Mastering InDesign Styles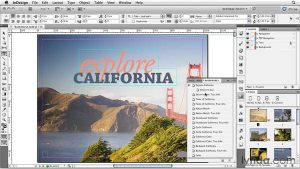 InDesign workshop @Intellisoft in Singapore
Creating and Using Styles
Create a Body Text Paragraph Style
Create a Headline Paragraph Style
The Story Editor
Use the Story Editor
Editing Styles
Orphan and Widow Control
Set Keep Options
Direct Formatting
Apply Direct Formatting to a Paragraph
Create a New Style Based on a Selection
The Baseline Grid
Lock Text to a Paragraph Grid
Insert Drop Caps
Character and Nested Styles
Create and Nest a Character Style
Unit 12: Tracking, Kerning and Hyphenation
Tracking
Track Text
Kerning
Kern Letter Pairs
Tracking in Layouts
Use Tracking as a Layout Tool
Hyphenation
Adjust Hyphenation
User Dictionaries
Create User Dictionary Hyphenation Exceptions
Work with Discretionary Hyphens
Prevent Selected Text From Breaking
Unit 13: Tables with Styles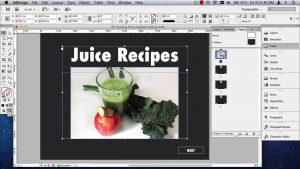 Creating Tables
Draw a Table
Add Data, Columns and Rows
Combine Cells and Format Text
Format a Table
Change Text Rotation and Cell Stroke Weight
Place Graphics in Table Cells
Converting Text to Tables
Convert Text to a Table
Scale a Table and Its Content
Table and Cell Styles
Create a Table Style
Create a Cell Style
Load Styles From an Existing Document
Unit 14: Fonts, Links and Templates
Fonts and InDesign
Use Find Font to Replace a Font
Links to Graphics
Use the Links Panel to Update a Graphic
Templates
Create and use a Template
Unit 15: Layers, Inline Graphics and Anchored Objects
Working with Layers
Create and Modify Layers
Move Objects to Layers
Hide and Show Layers
Reorder Layers
Inline Graphics
Make an Inline Graphic
Set Anchored Object Options
Show Object Threads
Create an Object Style


Do You Have Any Questions

on Course Fee, WSQ Grant or Funding?




Ask Us. We'll be happy to assist you.




NTUC Members can utilize UTAP Funding for the course!
Our Adobe InDesign Training in Singapore Participants says: 


I like the teaching approach of the instructor. Very detailed & shared his experience to aid in our learning. This training will help me in creative & designing work at my workplace.

– MOM

The InDesign instructor is fun loving, knowledgeable & expressive. He is interactive & able to transfer his knowledge with lots of relevant examples. – DGFX Studio

Excellent InDesign Training Workshop. Easy to understand course material provided. I have gained a lot of knowledge. It will help me to improve my productivity in my Design profession. – Quality Printers

See how I helped my friend Mark in improving his Excel productivity – reduce errors, and come back on time for our jog…

3 days InDesign training @Intellisoft, Singapore
How to Register For Adobe InDesign Training:
Simply fill this Online Registration Form. The Intellisoft Training Officer will get in touch with you to confirm your seat shortly. You can call us at +65 6252-5033 if you have any questions regarding the Adobe InDesign Training.