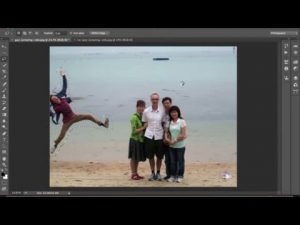 Learn to Remove Objects with the Lasso Tool in Photoshop
There are some moments when an extra object in a picture can really ruin the images. On vacations, weddings & parties while taking a picture some shadows or people stopping in front of you interrupt the shot.
Moreover, Instead of worrying about getting the perfect picture every single time, you can use Photoshop tools to edit the photos to fix the problems. You can purchase the latest edition of the Adobe Photoshop here.
You can refer our previous videos on Photoshop Tricks:
Why Should You Learn Adobe Photoshop?
How To Remove Red Eyes Effect in Photoshop.
Training Schedule
14, 21, 28 Aug 2021 (Classroom)
30, 31 Aug 2021, 1 Sep 2021 (Classroom)
11, 18, 25 Sep 2021 Classroom
27, 28, 29 Sep 2021 (Classroom)
16, 23, 30 Oct 2021 Classroom
For example lets check the right side image: – To make the girl disappear from background, pick the Lasso tool and make a very rough selection around the area to delete. No need to go too close to the edges – we need a bit of information around the area for it to work.
 Steps to Remove un wanted Objects with the Lasso Tool:
Open an image  (from which we want to remove an object) in Photoshop.
In Photoshop, select Lasso tool from left menu bar (short cut key L)
Use the Lasso tool to click and drag around the object, just to select the unwanted area to be removed.
Go to Edit > Select Fill then Choose Content-Aware, and press OK. Photoshop fills the selection with surrounding pixels and blends them together.
Similarly, watch this video on the steps required to Remove Unwanted Object in Photoshop

I hope you like the video and the technique, simply like this video, and
like the Intellisoft Page on Facebook
. We will keep sending you the videos as we record them.
In this paragraph, there are more useful tips and videos on Adobe Photoshop, just go through other videos. First, Using the Clone Stamp Tool in Photoshop.  Second, How To Use The Magic Wand Tool in Photoshop.  Third, How to Remove the Background in Photoshop. And lastly, how to Create an Animated GIF in Photoshop.
If you want to attend Photoshop Training in Singapore, you can visit the Adobe Photoshop Certification Training and avail Government Grants for Adobe Photoshop in Singapore.
If you have any questions on the videos, or a problem you are facing on Adobe Photoshop, you can email them to us, and we will be glad to answer your queries in our future videos.
Thanks.
Cheers,
Vinai Prakash,
Founder & Principal Trainer at Intellisoft Training Pte Ltd.
We are an Authorized Training Organization by the SkillsFuture Singapore (Currently SSG. Formerly WDA).