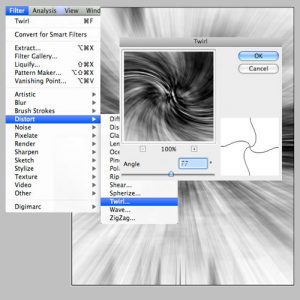 Learn to Use Twirl Effect in Photoshop
Now that we've covered the common Adobe Photoshop tricks  like How to Restore Old Photos Using Photoshop  and How to Create an Animated GIF in Photoshop, it is time to learn the more advanced tools within Adobe Photoshop.
Twirl effect is used to create beautiful backgrounds & convert an ordinary image into a spectacular series of colorful twirls in an artistic manner.
For more interesting results we can apply Twirl effect multiple times.
Training Schedule
27, 28, 29 Oct 2021 Classroom
13, 20, 27 Nov 2021 Classroom
29, 30 Nov 2021, 1 Dec 2021 Classroom
4, 11, 18 Dec 2021 Classroom
20, 21, 22 Dec 2021 Classroom
Learn how to create an ordinary twirl using filters in Photoshop CS
First of all, Open the Photoshop.
Go to File menu (shortcut Ctrl N) create a new document. Enter the Width & Height (in pixels, example W-250, H-150) of an image on which we will apply Photoshop advanced feature twirl filter.
Now go to

Filter menu from the top menu bar.

Go to Filter > Distort. Select Distort option.

Select Distort > Twirl. now Select Twirl option to give the twirl effect of an image. If we want to give twirl effect on particular area of the image, for that we will select that area Layer & then apply twirl filter on selected layer only.
Give the angle settings as 999 (maximum) and click OK.
 We can create Twirl in opposite directs too.
For this choose Filter > Distort > Twirl. We will enter the same value we have used the first time but as a negative amount.
Watch this video on the steps required to Twirl an Image in Photoshop

I hope you like the video and the technique. You can also check out our other Photoshop tips like
removing the red eye effect,
How to Create an Animated GIF in Photoshop
,
How to Restore Old Photos Using Photoshop
,
Using the Clone Stamp Tool in Photoshop
.
Learn to Use Twirl Effect in Photoshop .If you want more useful tips and videos on Adobe Photoshop, simply like this video, and like the Intellisoft Page on Facebook. We will keep sending you the videos as we record them.
Check if you would like to purchase the latest edition of the Adobe Photoshop here.
If you want to attend Photoshop Training in Singapore, you can visit the Adobe Photoshop Certification Training and avail Government Grants for Adobe Photoshop in Singapore.
If you have any questions on the videos, or a problem you are facing on Adobe Photoshop, you can email them to us, and we will be glad to answer your queries in our future videos.
Thanks.
Cheers,
Vinai Prakash,
Founder & Principal Trainer at Intellisoft Training Pte Ltd.
We are an Authorized Training Organization by the SkillsFuture Singapore (Currently SSG. Formerly WDA).